Who doesn't love the warm and inviting flavors of Indian cuisine? It's like a hug for your taaste buds! Each dish is a beautiful dance of spices, a vivid painting of colors, and a harmonious melody of flavors. And guess what? Getting a taste of India has never been easier with food delivery services booming around! In the middle of this flavorful hustle and bustle, Shalimar Cuisine of India is making waves with its genuine and hearty Indian food, making every meal feel like a journey through India's rich culinary tapestry.
A Flavorful Journey through India
India is like a grand, diverse kitchen itself! From the hearty, robust gravies of the North to the zesty, tangy relishes of the South, it's a culinary fiesta all around! And now, thanks to some super handy food delivery services, this fiesta can come knocking at your door. They're making sure that everyone gets to experience this myriad of Indian flavors, right in the comfort of their homes.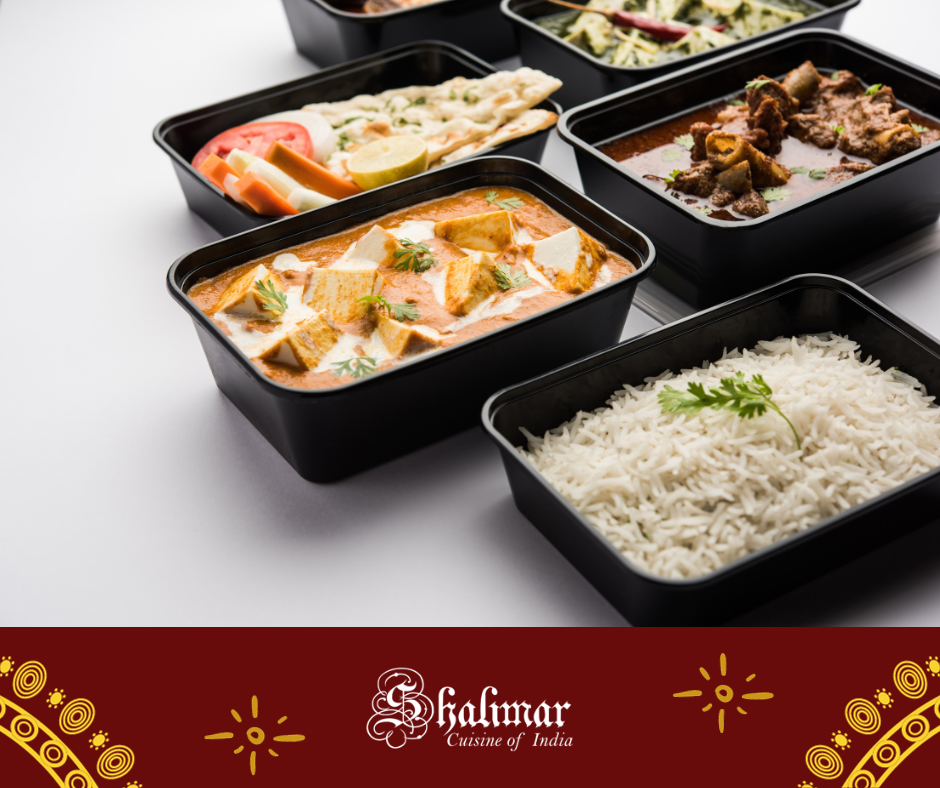 A Taste of Authenticity with Shalimar Cuisine of India
In this sea of flavors, Shalimar Cuisine of India emerges as a beacon of authenticity and tradition. Shalimar is not just about food; it's about giving you a genuine taste of India's diverse culinary heritage with each bite. The folks at Shalimar are passionate about bringing the true essence of Indian dishes to your table, whether it's the smoky aroma of Tandoori dishes or the sweet allure of Gulab Jamun.
Shalimar's menu is like a delightful storybook of India, with each dish telling its unique tale of traditions and regions. You can find a range of delicious offerings, from juicy kebabs and flavorful curries to aromatic biryanis and sweet treats, bringing the magical flavors of India to your taste buds.
Crafting Dishes to Your Liking!
What's cool about Shalimar is that they totally get that everyone has their own vibe when it comes to flavors. Whether you're all about that spicy kick in a Chicken Tikka Masala or more into the gentle, creamy goodness of a Malai Kofta, they've got you covered. Every dish is a labor of love, ensuring a burst of flavors in every bite!
Convenient and Quick, Just the Way We Like It!
In today's world, we all appreciate a bit of convenience, don't we? Shalimar gets this! They've made ordering super easy and straightforward, so all those mesmerizing aromas and tastes of India can reach your doorstep hot and fresh without any fuss.
Keeping it Green and Clean
What's even more awesome about Shalimar is their commitment to Mother Earth! They're stepping up their game with eco-friendly packaging, showing that tasty food and responsible practices can go hand in hand.
Savoring India with Shalimar
Indian food delivery is more than just about comfort; it's about opening your doors to the diverse and rich world of Indian cuisine. Shalimar Cuisine of India is here to offer you a slice of India's culinary wonders. Each meal is an experience, a taste of the warmth, the traditions, and the diverse flavors of India.
So, whether you're an Indian food veteran or just starting your spicy adventure, Shalimar is your go-to place, promising not just a meal, but a joyful journey through the world of spices, right to your door!
Getting a taste of India is never easier with the booming food delivery industry all over!